My dear friends, as an Apostle of the Lord, I invite you to follow our beloved prophet, President Nelson, in flooding the earth with the Book of Mormon. The need is so great; we need to act now. I promise that you will be participating in "the greatest work on earth," the gathering of Israel, as you are inspired to reach out to those who have been "kept from the truth because they know not where to find it." They need your testimony and witness of how this book has changed your life and drawn you closer to God, His peace, and His "tidings of great joy."

--Elder Ronald A. Rasband ("This Day", October 2022 General Conference)
This year is the 200th anniversary of the Angel Moroni appearing to Joseph Smith and his first trip to the Hill Cumorah. I spent four summers at the Hill Cumorah Pageant sharing the story of the Book of Mormon to those who came to the Hill. As members of Jesus Christ's restored church, we treasure the Book of Mormon. So while we normally talk about Harry Potter, Kingdom Hearts, Disney Plus, and everything else pop culture, But today wanted to share our favorite scriptures from the Book of Mormon and how this book of scripture has influenced our lives.

Spencer: Words of Mormon 1:7
7 And I do this for a wise purpose; for thus it whispereth me, according to the workings of the Spirit of the Lord which is in me. And now, I do not know all things; but the Lord knoweth all things which are to come; wherefore, he worketh in me to do according to his will.
When I was waiting for my mission call, I didn't know if/when it would come, because of my autism diagnosis. It was probably my first real adult episode of depression (which would later be the reason I came home from my mission). This was also the first time I remember this scripture. In a time of my life that felt out of control, this scripture provided me with comfort. Even if my heart is being torn apart coming home from my mission, I'm crying in feelings of loneliness and depression, or I'm stressed from a bad day at work, this scripture reminds me that God has a plan for me in all of these things... even if He has to get me there kicking and screaming at times.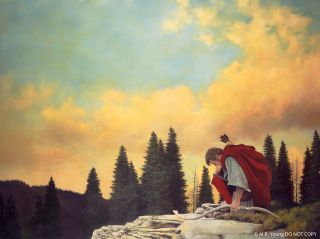 Michael: Enos 1: 3-5
3 Behold, I went to hunt beasts in the forests; and the words which I had often heard my father speak concerning eternal life, and the joy of the saints, sunk deep into my heart.
4 And my soul hungered; and I kneeled down before my Maker, and I cried unto him in mighty prayer and supplication for mine own soul; and all the day long did I cry unto him; yea, and when the night came I did still raise my voice high that it reached the heavens.
5 And there came a voice unto me, saying: Enos, thy sins are forgiven thee, and thou shalt be blessed.
I believe that one of the greatest gifts God has given us is blessing of prayer. There are many scriptures in the Book of Mormon that talk about Prayer and the blessings it brings. I like Enos experience because he teaches me to put my soul into praying. I know that we can feel forgiveness when we pray because it has happened to Enos and so many other. I might not give a sincere prayer every time, but I know this is something important. We are God's children and he listens to our prayers like he did with Enos.

Rob: Ether 12:27
27 And if men come unto me I will show unto them their weakness. I give unto men weakness that they may be humble; and my grace is sufficient for all men that humble themselves before me; for if they humble themselves before me, and have faith in me, then will I make weak things become strong unto them.
This scripture has come to mean something different to me over time. Heavenly showing us our weakness does not mean, necessarily, that he shows us specific areas where we are weak. More broadly, we are part of a race of beings that are very weak, not matter if it's a navy seal or pimple teenager. People have limitations, and we're often in denial of this. But humility is a strong characteristic and shows one's willingness to account for the weaknesses which we have, and to find strengths that we may only have access to because we are imperfect. An example is that I often feel that I lack confidence. However, the idea that I need to challenge and push myself to build my confidence has convinced me to stay committed, even at times when I have the urge to quit. I know that giving up without a good reason will probably reinforce my fear of failure. Instead, I have intentionally chosen to face that fear, work through challenges, and keep showing up to work. I've experienced challenges at work, at church, raising kids, and in my marriage, and continuing to remain committed through struggles has paid off over and over. If I had not grown up questioning myself and feeling low self-esteem, I do not know if I would have developed the emotional grit necessary to face some of the challenges I have. And through all of that, I certainly know that I have failed or done poorly many times, and that's okay.

Joe: Alma 56: 55-56
55 And now it came to pass that when they had surrendered themselves up unto us, behold, I numbered those young men who had fought with me, fearing lest there were many of them slain.
56 But behold, to my great joy, there had anot one soul of them fallen to the earth; yea, and they had fought as if with the strength of God; yea, never were men known to have fought with such miraculous strength; and with such mighty power did they fall upon the Lamanites, that they did frighten them; and for this cause did the Lamanites deliver themselves up as prisoners of war.
The 2000 Stripling Warriors was always one of my favorite stories, not just because Helaman calling all 2000 of the young men his sons which heals my own daddy issues, but because of the conviction and faith the warriors had. Ask any military expert and they'll tell you that in a battle as big as the one against the Lamanites some casualties on both sides would be expected, but the fact that none of the warriors fell shows that Heavenly Father was watching over and protecting them in their most dire time.
I think all men need a brotherhood like Helaman's army, a group of men with similar values and goals who will fight with all they have to protect each other and to serve their higher cause.

Kenton: Moroni 10:5-7
5 And by the power of the Holy Ghost ye may know the truth of all things.
6 And whatsoever thing is good is just and true; wherefore, nothing that is good denieth the Christ, but acknowledgeth that he is.
7 And ye may know that he is, by the power of the Holy Ghost; wherefore I would exhort you that ye deny not the power of God; for he worketh by power, according to the faith of the children of men, the same today and tomorrow, and forever.
There is a singular power in Christ, which can't be compared. Yet it's through that, that we're able to act in power and in the ways that glorify and bring us closer together. Without that power, we only have truth, and truth endures, but it doesn't immediately make effort and change happen: action does. We often fail to realize that we all have access to the power of God, and godliness, and that He is wanting for us to grow and develop into our potential. We simply need not deny the power of God, either that He has power and influence in our lives, or that we are capable of living up to that power. Have confidence, stand for truth and goodness, and deny not God's power, and work according to it! That's just one takeaway from these verses, and I think there is even more that could be emphasized, but that's the beauty of Moroni's writing, he is able to convey many simple truths in so few words.